We are more than just an 'off the shelf' company.  We take great pride in our work and in fact we began life making a truly bespoke firepit.  Our skilled team can take any of our existing designs (or even something completely new) and tailor it to exact requirements in terms of size, design and colour to create something as unique as you.
We offer the following bespoke products:-
Firepits
Planters
Log Stores
Garden Screens
Wall Art
Gas Bottle Covers
Oil Tank Covers
Bespoke Firepits
The process of designing a firepit starts with a conversation.  Bespoke firepits require us to talk through your initial ideas and advise you on what is possible and how that might work.  We would always ask that you provide your ideas and let us come up with the designs, working your ideas into the technicalities of an intricate piece of bespoke artwork that will convert into a usable firepit.
We can talk you through size options and provide a quote for creating the product.  If all this is acceptable we can move onto the design stage, where we can provide you with some drawings which will bring your ideas to life.
Photographs of ideas are always helpful in ensuring we understand your ideas and can speed things up in the design process.
Once designs and prices have been agreed we will ask for a deposit and can start production of the firepit.
Once our skilled fabricators have created the firepit it can be painted with a heat resistant paint to any RAL colour (the choices are endless) or we can offer the product in Corten natural state (depending on your requirements).
Once finished we can send you some images and will package the firepit up for delivery to you to enjoy for many years to come.
For more information about our bespoke Firepits CONTACT US
Bespoke Planters
We offer a range of standard planters in both Corten and Aluminium but we understand that sometimes our customers need a very specific size or colour to compliment their garden. Our bespoke service enables customers to provide their own specification to us and we will then provide a NO OBLIGATION QUOTE  for you to consider.  The lead time on a bespoke planter is usually around 3 weeks and we offer free mainland UK delivery.
Bespoke Log Stores
Our Corten log stores have proved incredibly popular and we have now developed an Aluminium log store which can be powder coated in any RAL colour.
These log stores can be made in various sizes so CONTACT US if you have specific requirements and we will provide you with a quote.
Bespoke Garden Screens
We offer a full design and fabrication service for metal garden screens.  These are available in any RAL colour and are far superior to many other composite screens on the market.  CONTACT US for more information or a quote.
Wall Art
We can fabricate a bespoke piece of wall art for indoor or outdoor display to any size you require.  REQUEST A QUOTE

The first firepit we designed and manufactured was a 60th birthday gift for Steve's dad. 
We were so thrilled with the personalised nature of it (as was he we might add!) that we decided to offer the product out to the general public. 
Steve's dad has a love of Stoke City (for his sins), farming, skiing and red wine.   We wanted the gift to reflect his personality and interests and our searches for this type of product were not fruitful.  So we decided to make one…
The design incorporated the Stoke City crest, a cow, a skier on the slopes and a bottle of wine, all of which he holds dear and reflect who he is, a farmer in his past, a huge Stoke City fan and a lover of the slopes and a good bottle of red.  Needless to say he was delighted with his truly unique gift which has now emigrated to Spain with him to enjoy the vineyards and sun!

Bespoke Water Trough/Pond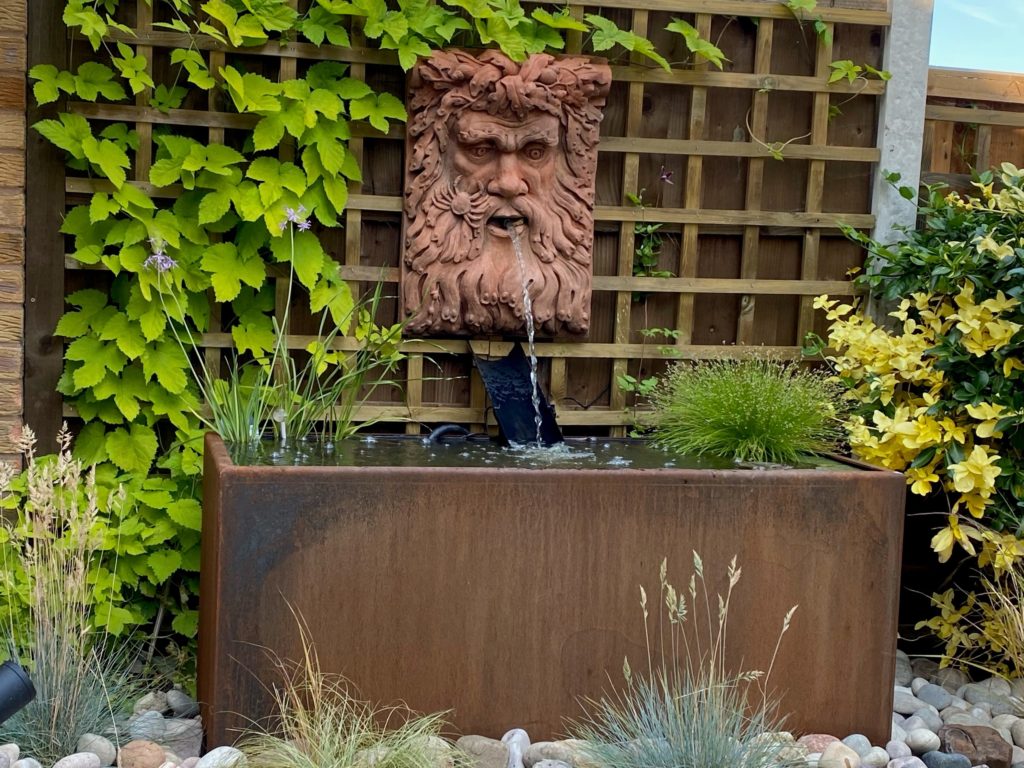 We were approached by a client who requested we fabricate a bespoke water trough/pond for his garden.
The brief was that the customer was to use the structure as a water feature and that it was to hold live fish.
We worked together to agree the size and design of the product and fabrication was completed within 3 weeks.
The feature was delivered installed soon after and the fish and plants are now thriving.
What the client said:-
I thought you'd like to see how the Corten steel planter worked out now the plants are getting established it's easier to imagine what the look will be once the fence is covered with the hop and clematis.

The steel planter has weathered beautifully and the solution I treated the inside with has stayed on so fish and plants are thriving. Anyway a very happy customer.
Thanks again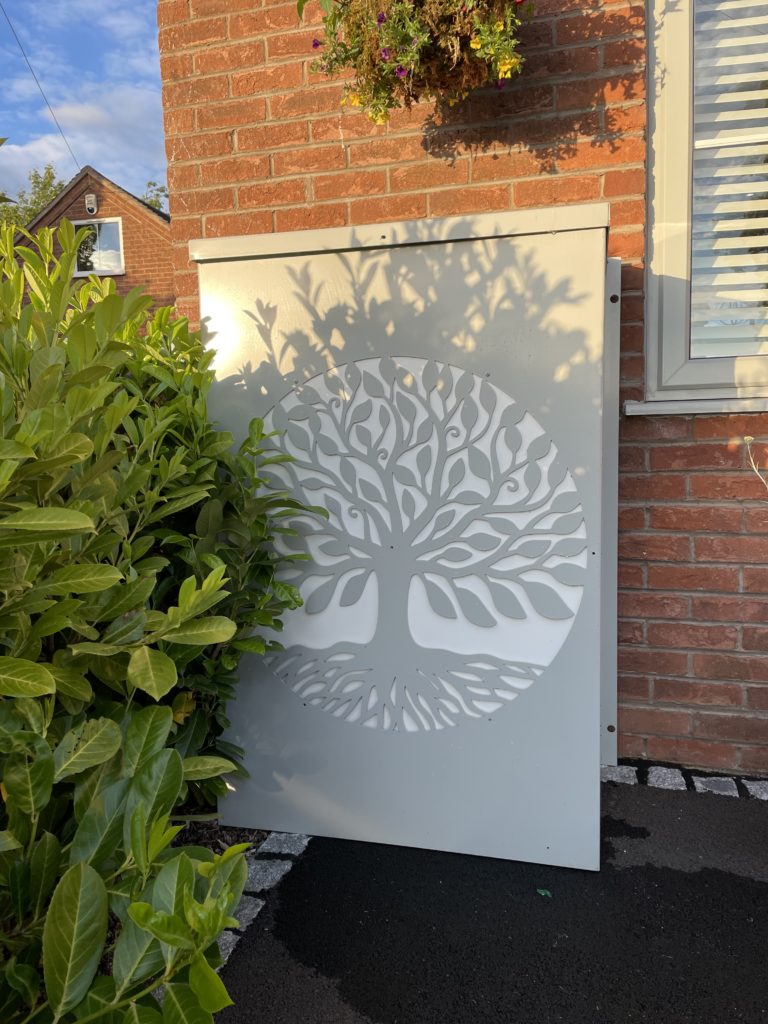 We were approached by a client to design and fabricate something to hide their unsightly gas bottles situated at the front of their property aside the kitchen window (due to the bottles supplying the hob).
We worked with them to come up with a housing made of mild steel and powder coated to match the colour of their windows (Agate Grey).  The housing is mounted to the wall to ensure it doesn't fall over and we incorporated a Tree of Life design into the front. 
What the client said:
We approached Emma and Steve to help us to hide the gas bottles on show at the front of our property. 

Everything we had seen online had been made of wood and we wanted something more sturdy and to match the colour of our windows.   We had recently completed the house rennovation and the unsightly gas bottles were letting the overall look down.  

We worked with Emma and Steve to come up with a design and within a couple of weeks it was fabricated and powder coated.  We absolutely love how unique our cover is and we get many comments about it from visitors.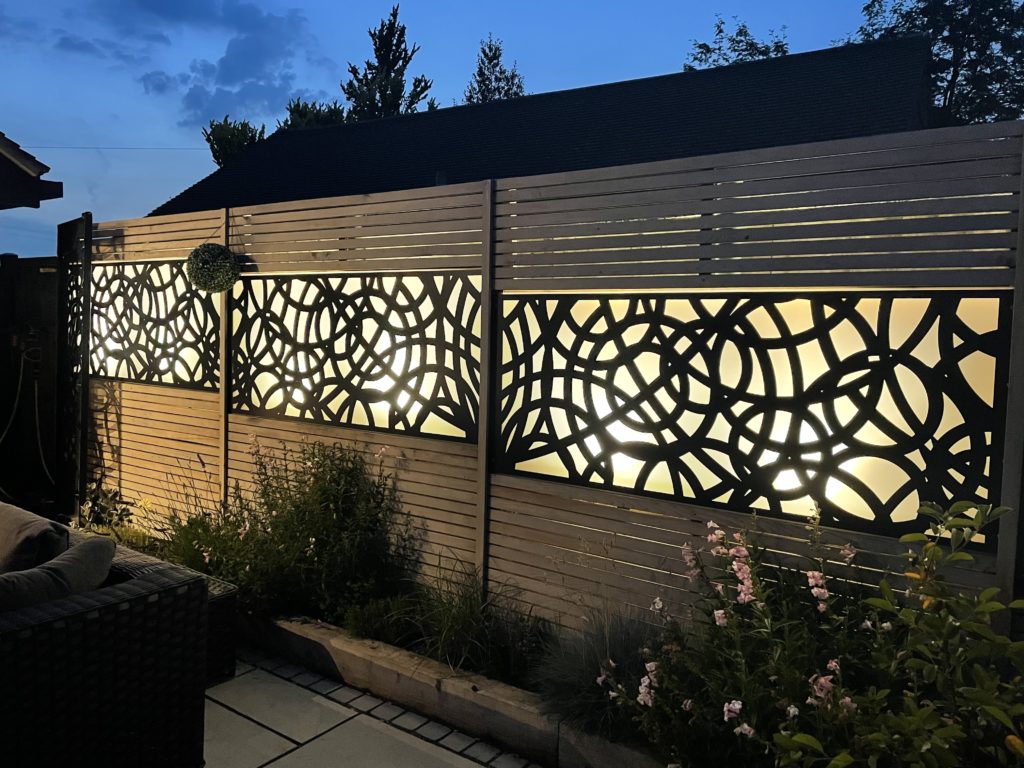 We were asked to commission some garden screening for a client.  They wanted to incorporate panels into a cedar wood baton fence and illuminate them.  We cut the steel using our on-site water jet machine and had the metal powder coated in Anthracite Grey to match the colour scheme of the clients garden.  
What the client said:
We are in love with our screens from Lux Unique. 

The team were knowledgable and highly efficient in designing and fabricating our screens, nothing was too much trouble and the screens were ready in a couple weeks.  They have really finsihed off our garden and we get so many comments from friends and family about how stunning they are.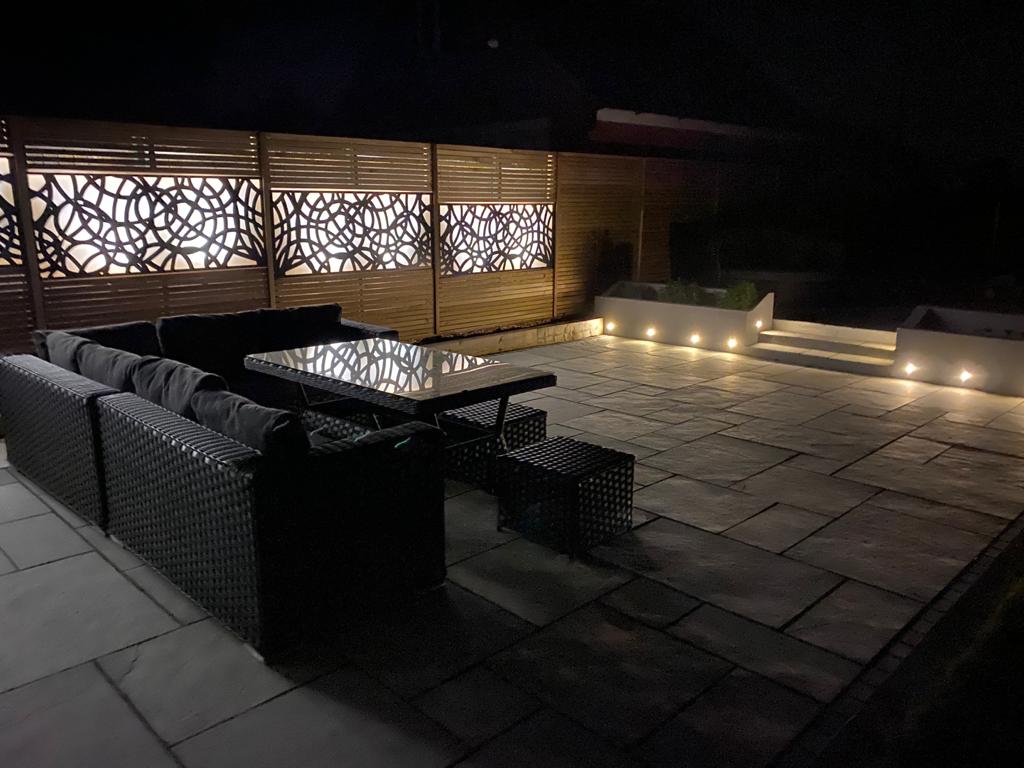 If you have an idea for a commission you would like to bring to life, then get in touch with us for a no obligation chat and quote. We can fabricate all manner of items and not just limited to outdoor products, chances are if its made of metal we can help so do not hesitate to contact us with any enquiries.
Follow us on social media for ideas and inspiration as well as making sure you are up-to-date with all of our latest product launches and offers.
Already have an idea? Get in touch and see what we can do for you!